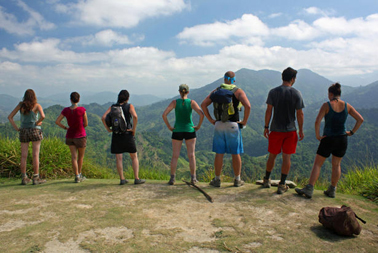 The path to Ciudad Perdida rises and falls through the Sierra Nevada de Santa Marta, a UNESCO Biosphere Reserve. Rising abruptly to an altitude of 5,775m at only 42km inland, it is the highest and most ecologically diverse coastal mountain range in the world.
by: Emma Field
Special to the Star
CIUDAD PERDIDA, COLOMBIA—Daniel, our guide, pointed to a large fanged spider sprawled on his backpack and said, "You'd have 24 hours . . ."
Two days into the trek to Ciudad Perdida (Spanish for "Lost City") and things had taken an ominous turn. The day had started perfectly. I got out of my hammock to a gentle sun and, serenaded by exotic birdsong, dove into a nearby swimming hole surrounded by trees heavy with bromeliads and vines. Breakfast was served and we were ready to hit the trail. That was when Daniel lifted his backpack and spotted the arachnid, which turned out to be a Brazilian wandering spider, one of the most dangerous in the world.
But Ciudad Perdida never claimed to be an adventure for the unfit, soft or squeamish. The journey there is tough. It's dirty. It teems with creepy-crawlies. And it is immensely satisfying. It takes six days to trek to the city and back: 52 kilometres in total. Our route wound through sun-drenched pastures with open views of the Sierra Nevada de Santa Marta range, penetrated steamy jungle, followed river beds and scaled mountain ridges fringed with towering trees. We passed villages of circular thatched huts where chickens, turkeys and pigs scratched in the dirt and small children peeked shyly at the sweaty strangers. The only other way in is by helicopter, but where is the fun in that?
Tucked away in the world's highest coastal mountain range and known as "Teyuna" by the indigenous people, "Buritaca 200" by archaeologists, and to most other people as "Ciudad Perdida," the site is one of the world's greatest ruined cities. It is thought that Ciudad Perdida was founded by the Tayrona in 800AD, predating its more famous Peruvian cousin, Machu Picchu, by some 650 years. It was abandoned during the Spanish Conquest and rediscovered in 1972, although indigenous tribes claim to have known about it all along.
The trek passes through a region populated by the Kogi, descendants of the Tayrona. The Kogi are a spiritual people who call themselves the Elder Brothers and believe that the future of the world lies in the continued ecological and spiritual balance of their home, the Sierra Nevada: "the heart of the world" as they call it. We passed many Kogi on the path. Their presence was a silent one. Dressed in white, sporting pointed white hats and holding gourds painstakingly shaped with sticks and their saliva, the Kogi prefer to have little contact with the outside world. Most simply stood aside as we puffed our way past.
Alarming as the spider incident was, day three proved the most precarious. Just five minutes from camp we had to scramble across a sheer cliff. People have turned back at this point, scared of toppling into the river below. We scuttled across like crabs, grappling with every limb. That was the hardest part of the hike, Daniel assured us. He had conveniently forgotten to mention the 1,800 vertiginous steps that lead to the city itself.
To get to Ciudad Perdida, we had to cross the Buritaca River eight times in two hours. Our path followed the river bed, winding around, over and under large, spherical boulders at the bottom of a steep valley. At that time of year the river reached no higher than my thighs and the crossings were relatively easy. In rainy season, trekkers carry their bags above their heads and use ropes; being swept away is a real risk.
After the final crossing, invisible to the untrained eye, a narrow opening in the greenery revealed a near-vertical column of slippery, green steps. This is the entrance to Ciudad Perdida. 1,800 treacherous steps separated us from the city. It took one hour to climb those stairs; precipitous and narrow, they were built for people with feet far more delicate than mine.
The final flight of stairs is a wide, shallow sweep of restored stone steps, a relief to shaky legs and shakier nerves. In the lower parts of the city, palm trees grow from ruined walls and partially uncovered terraces lie half forgotten beneath jungle litter. The climax of Ciudad Perdida is a mountain peak cleared of jungle and finely sculpted into rising platforms of stone walls and grass lawns with fantastical views of the tree-smothered slopes of the Sierra Nevada. The greatest beauty of all was that there was hardly a soul there to break the peace.
We got up at 6 a.m. the next day to watch the sun rise over Ciudad Perdida, joining three soldiers from the Colombian army who were standing watch. In September 2003, eight foreign tourists were kidnapped and held for three months by the National Liberation Army (ELN), a left-wing guerrilla group. The area is still patrolled by the Colombian army, which, nowadays, spends more time posing for photographs than guarding against insurgents.
I perched on the edge of an upper terrace (over 200 terraces have been uncovered by archaeologists so far) with the cobbled roads and stone plazas of Ciudad Perdida spread out below. Beautiful as the ruins are, half the appeal is in their jungle canopy location. The sun rose to reveal cloud-haunted mountains rolling as far as the eye could see. Morning birds sounded like nothing I had ever heard in the natural world. For lack of a common reference point we gave them nicknames such as "computer game bird" and "bubble wrap bird."
Once we dragged ourselves away from the city, the return trek was easier, despite the coral snake that wound its way into our camp two days later. For me, the Lost City trek was about more than visiting Ciudad Perdida. It was about experiencing the jungle in all its loathesomeness (creepy-crawlies) and delights (swimming holes). It was about successfully sweating my way up steep inclines and wading, Indiana Jones-style, through rivers. And yes, it was in no small way about being able to say: "I've been there."
Emma Field is a freelance writer based in London, England.
JUST THE FACTS
ARRIVING: Treks leave from Santa Marta, on Columbia's north coast. You can fly to Santa Marta from Bogota in 1 hour 25 minutes or travel by public bus, which takes 15 to 24 hours. Flying is recommended.
BOOKING: It's not possible to trek to Ciudad Perdida by yourself. Dare to attempt it alone and not only will you be breaking the law but you will get lost so join a group with an authorized guide. A handful of licensed companies organize treks. I travelled with Turcol Tourismo Colombiano ( www.buritaca2000.com), based in Santa Marta. It cost $500,000 Colombian pesos (about $260).
SLEEPING: Accommodation along the trek is in shared bunk houses. Be aware conditions can be cramped, damp and mucky. Basic toilets are provided and the best way to keep clean is to bathe in the swimming holes. Book a hotel in Santa Marta or Taganga for before and after your trek.
Budget: I stayed in Aluna Hostel, a small, clean and well-kept hostel that prides itself on its hospitality. It's four blocks from the beach and there are plenty of bars and restaurants within walking distance. Book a double en suite room, from $30 per night. www.alunahostel.com
Boutique: La Casa del Farol is in a 19th-century building one block from Santa Marta's cathedral and two blocks from the beach. It has six luxury rooms, two terraces and a spa — something you will appreciate after the trek! Book a standard double room, from $184 per night. www.lacasadelfarol.com
PACKING: Turcol provides food, snacks, water, hammocks, blankets and mosquito nets. As well a few changes of clothes and basic toiletries, consider taking these essentials: sun screen, insect repellent, waterproof hiking shoes, warmer layers for evening, flashlight, waterproofing for clothes and camera, first-aid kit, quick-drying clothes. Optional items include waterrproof sandals for evenings, hiking poles, a pillow, swimwear, water purification tablets/iodine drops, energy snacks and a light sleeping bag.
DINING: I was impressed by the quality of the food. A typical day might start with coffee and fried eggs. Lunch could be potato, coriander and vegetable soup, while dinner might consist of chicken legs in sauce, potatoes, rice and salad. Plenty of snacks like pineapple, watermelon and granola bars are provided while trekking but it's a good idea to bring your own energy snacks too. One disappointment was the provision of drinking water. I was told water-purification tablets would be provided. They weren't. The group was assured the water en route was safe to drink and I'm sure it was but I didn't want to risk it on a six-day trek. Fortunately, someone in our group shared their supply of water-purification tablets.
PLANNING: The Lost City trek can be done year round. The trek does not take place when the rivers run too high and alternative routes are in place when necessary. Rainy season is May to October but temperatures are relatively steady throughout the year. The driest period is December to March. In terms of safety, check the situation with the department of Foreign Affairs and International Trade ( www.voyage.gc.ca) before departure. Some areas of Colombia are dangerous and you are advised against all non-essential travel.
Last Updated on Sunday, 09 September 2012 17:12